Become a Sponsor
Share the acceptance, understanding and compassion a horse gives a child or teen in crisis.
It would be impossible for us to serve our kids free of charge at Hope Reins if supporters like you didn't share our love for these amazing four-legged creatures.
While some of our horses are lovingly donated or just rediscovering a new purpose, many are rescued from severe neglect, starvation and abuse. The annual cost to feed a healthy horse is more than $3,000, and when you consider the additional supplements, vaccinations, farrier expenses and other unexpected medical costs, it's a daunting task keeping our herd of "Angels in Horsehair" funded.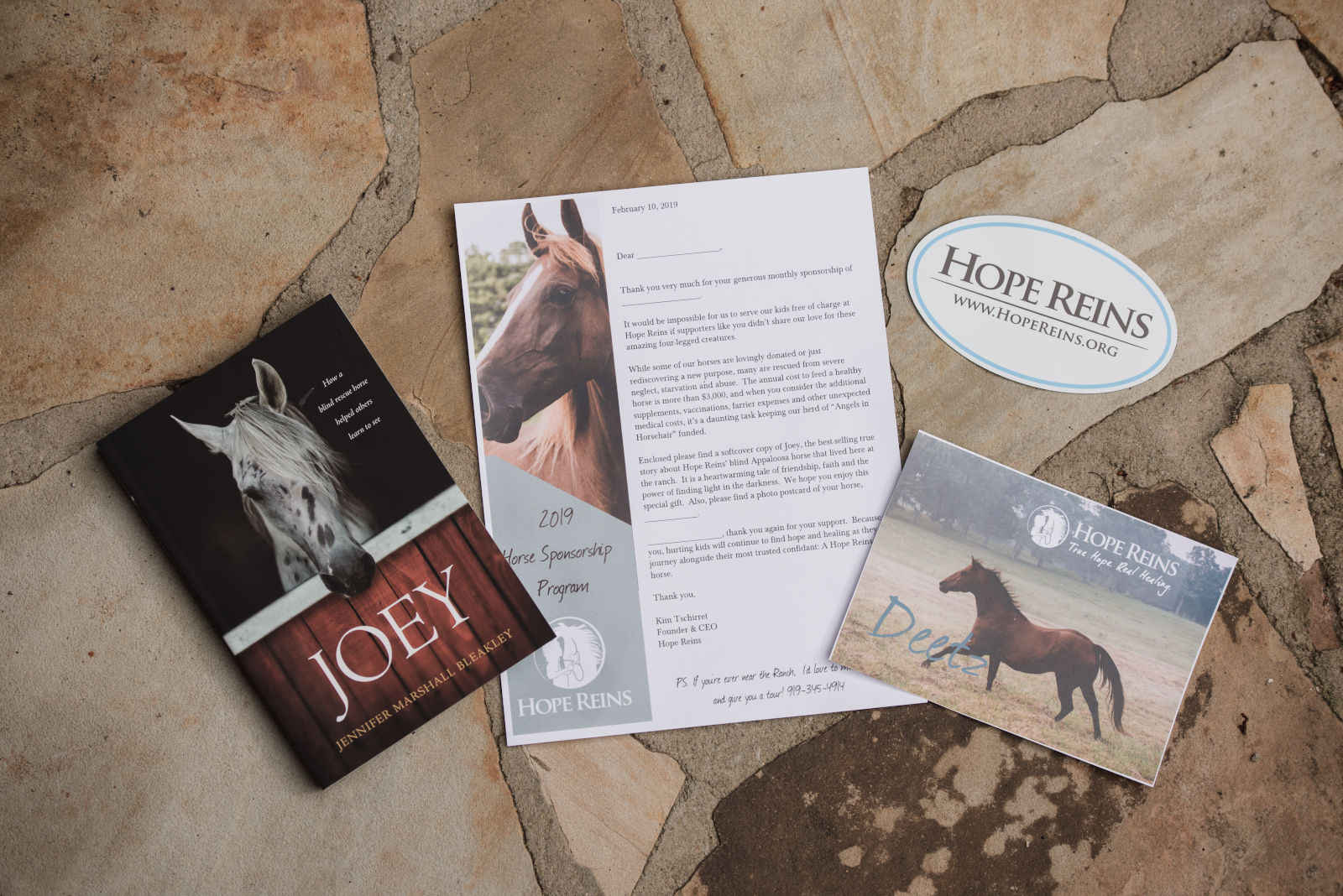 Would you consider supporting one of Hope Reins' horses by committing to becoming their monthly sponsor? As our way of saying thanks, we would like to send you a FREE softcover copy of Joey, the best-selling true story about Hope Reins' blind Appaloosa horse that lived here at the ranch. It is a heartwarming tale of friendship, faith and the power of finding light in the darkness. We hope you enjoy this special gift.
By becoming a $25 or more monthly sponsor you'll receive your horse's Hope Reins Sponsorship Kit and numerous other items:
FREE

copy of the best-selling Joey book by Jennifer Marshall Bleakley
Hope Reins magnet
Hope Reins story card featuring your sponsored horse
Thank you again for your support. Because of you, hurting kids will continue to find hope and healing as they journey alongside their most trusted confidant: your sponsored Hope Reins horse.
Support Hope & Healing!
Would you consider becoming a ranch visitor, making a one-time donation, or joining our mailing list and donating your time toward our ministry helping hurting kids find true hope and real healing?