Vision
To inspire true hope and real healing for every child.
Mission
We pair kids in crisis with rescued horses and mentors to find hope and healing.
Hope Reins' Foundational Scripture
"Praise be to the God and Father of Our Lord Jesus Christ, the Father of compassion and God of all comfort, who comforts us in all our troubles, so that we can comfort those in any trouble with the comfort we ourselves receive from God." – 2 Corinthians 1:3-4
Our History
It all began with a horse, a child and a dream. It was a sweltering summer day in July 2010 when 10-year-old Marcus climbed atop Gabe, the former party pony adopted by Hope Reins to serve as the first official 'equine counselor.' The red-haired foster boy wore a broad smile and sat upright as his counselor led Gabe around the pasture – unaware that he was the first of many more hurting kids that would enter the gates of this special place.
Yes, Kim Tschirret had a dream. The Raleigh mom of two and former marketing executive with Thomas the Tank Engine had recently read a remarkable book that not only touched her heart deeply but evoked a sense of personal purpose – a passionate mission she later could only attribute to God's artful plan.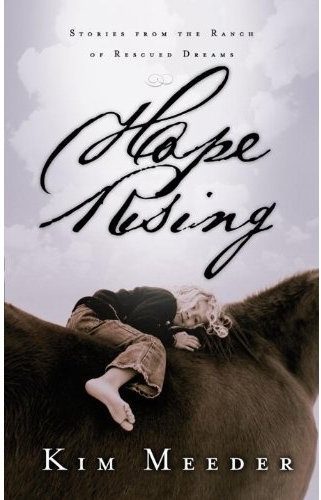 "Hope Rising" was the book – and its author, Kim Meeder, chronicled heart wrenching  stories of abused horses she and her husband, Troy, rescued and the hurting kids who began to find hope and healing themselves while helping care for the extraordinary horses. The Oregon couple witnessed the natural connection between emotionally and physically wounded kids and horses – and embarked on an amazing journey by founding Crystal Peaks Youth Ranch, which today is home to dozens of horses and has served thousands of kids and families. 
Kim Tschirret also loved horses – and unfortunately, she'd also experienced a tumultuous upbringing in a family marred by alcoholism. She recalled the comfort and companionship her Chestnut Saddlebred "Country" granted her during the unpredictable teenage years – and she knew Raleigh needed a ranch like Crystal Peaks.
In April of 2009, while hunting for Easter Eggs in a North Raleigh field with her daughter, Kim found the future Hope Reins property. Owned by Bay Leaf Baptist Church, the 30-acre rolling hills at I-540 and Creedmoor Road seemed to provide everything a ranch would need – space, beauty and above all – a quiet refuge for hurting kids and horses.
Then, in 2015, Hope Reins secured its "forever home" located just a few miles north off of Highway 98 in Durham County.  The 33-acre property was a former cattle farm and boasted two stocked ponds, a creek-side wooded trail, fruit orchard and a 4,000 square foot log cabin.   
The permanent property offered the ministry security and the ability to grow.
Today, visitors who walk through the gates of Hope Reins are greeted by the bright red welcome center, filled with smiling volunteers that support every aspect of the ranch.   The 15 horses peer over the stained fence as manure is scooped, pastures are raked, gardens are watered and most importantly, lives are transformed.
Sessions take place in the outdoor arena or custom-built "round pen," which offers kids and horses a personal space to connect and perform groundwork.   It is a busy and bustling place at times – but also breathes tranquility when work ends and the firepit lights up for informal gatherings.
Hope Reins is a place where ordinary people—like Kim Tschirret—meet extraordinary challenges every day with God's Grace and witness the triumph of hope and healing for kids and their families.