Jill Bartholomew's Story!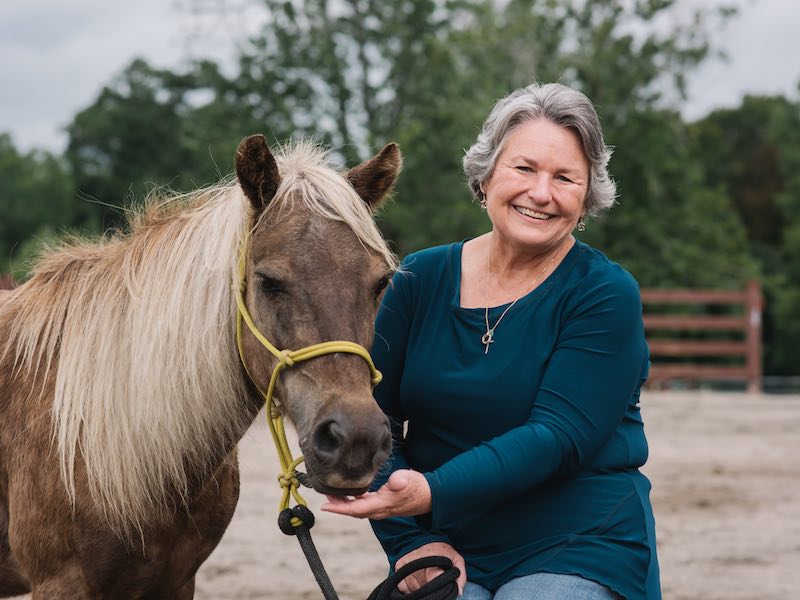 Mother. Grandma. Mentor
Hope Reins Donor
Since 2010
Jill Bartholomew values mentorship. She recalls how her twenty-something life transformed when an older woman took an interest in her. "She just showered love on me," says Jill. "She taught me how to open up and trust God with my feelings and pain from the past."   
Years later, Jill gave this same gift to another young woman.  "She probably thought I was weird at first," laughs Jill as she recalls approaching Kim Tschirret at a local Bible study they both attended.
"But God had placed her on my heart."  As it turned out, Jill's knack for intuitively recognizing a complete stranger's need for a friend was on target.
The two started meeting weekly over chocolate chip bagels and coffee at Panera sharing each other's burdens and dreams.  Kim had just lost her mom to breast cancer, and Jill could see how the emotional burden weighed on her new friend.  "She was in pain.  But in hindsight, I can see how God drew her closer despite grief."
And, Kim's pain proved to be fertile ground for a special dream.  A dream she mapped out with Jill every time they met. "She talked about her chaotic childhood and the comfort she found in her horse," says Jill. "I was really amazed by the clarity of her vision."
Kim told Jill she'd recently read Hope Rising, a book by Kim Meeder that chronicled heart-wrenching stories of emotionally wounded kids who healed as they cared for rescued horses.  She explained her desire to build a nonprofit ranch in Raleigh just like Meeder and her husband had done in Oregon.
Jill listened as Kim plotted.  "I remember saying God is in it all," says Jill.  "And encouraged her to follow her dream."
But behind the scenes, Jill did some plotting of her own.  She'd known the transformational power of relationships – being poured into by another human being.  It was her time to invest into Kim all the way.
 A few weeks later, Kim opened her mailbox to a note card from Jill. "I believe in you," was scribbled in Jill's handwriting along with a $1,000 check.  "I think I cried, then laughed.  I couldn't believe it!" says Kim.  "I didn't even have a name or organization yet, but still she became our first donor."   Kim says the money helped her file for the 501 © (3) and became the financial bedrock for Hope Reins.
Today, 10 years later, thousands of hurting kids at Hope Reins have heard the words 'I believe in you' from their mentors all because someone like Jill cared about someone else.  It's the people in our lives who can deepen our walk with Jesus and push us to pursue our God-given gifts. 
We are so thankful for godly servants and donors like Jill Bartholomew.