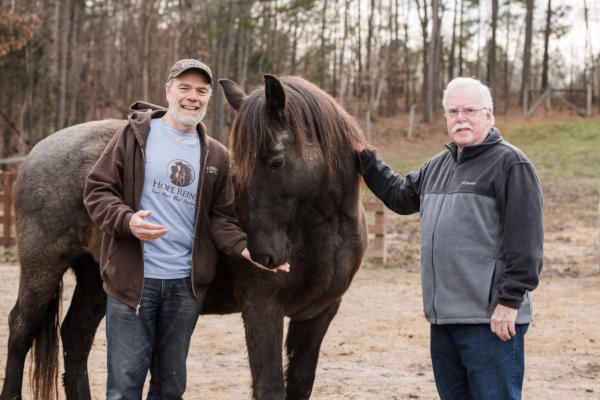 Dave (left) Ruka and Ray (right)
Meet Ray and Dave.
On Saturday mornings, you'll likely find Dave Guy and Ray Martin loitering around the Hope Reins welcome center by 7:00 AM.   The coffee brews inside the lodge as the two crack a few jokes and munch on donuts before compiling a list of to-do's with ranch manager, Brandon Wert.
The duo is preparing for 8:30 AM Barn Chores, an open door to anyone and everyone interested in volunteering or touring Hope Reins.
"They are as-good-as-it-gets volunteers," says Brandon. "Not only do they understand and champion our vision, but they engage other volunteers and first-time guests with a contagious enthusiasm."
Click here to continue reading about Ray and Dave's amazing story.
Are you interested in hearing more stories of hope and healing? Have you considered visiting us in person and getting a Stories of Hope Tour?
Now it's easier than ever to visit the ranch!
Stories of Hope Tours are open to the public twice per month on Saturdays at 11:00 AM.  This sneak peek, behind-the-scenes tour will give you a glimpse into why kids in crisis discover hope and healing when paired with a  very special, rescued horse.