20,000 Sessions Strong!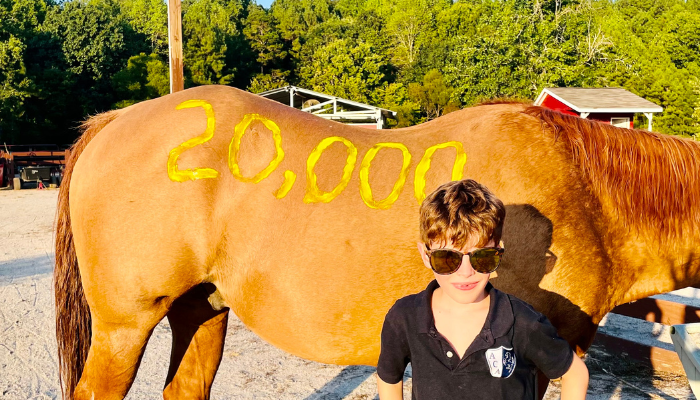 His Future's So Bright (Because of YOU), He's Gotta Wear Shades.
This is Oliver!
It was a bright and very sunny day, as you can tell, when Oliver helped us celebrate a terrific milestone.
And, I must say, he worked very hard on creating his masterpiece "20,000" on Kody with non-toxic paint.
Why the 20,000?  This huge number represents how many completed sessions (since July of 2010) we've done at the ranch because of your incredible generosity.
Sessions are at the core of how kids heal at Hope Reins. They are 90-minute time periods devoted exclusively to assisting a child or teen process through their trauma with a horse and mentor.
Instead of traditional 'talk' therapy, equine mentorship incorporates a connection between a suffering kid and a horse, who is a highly sensitive animal.  Horses are hyper vigilant, constantly scanning their environment for potential danger.  And, this is a very similar characteristic kids possess who face emotional crisis.
Thus they have an unspoken, innate bond.
Also, remember, the horses at Hope Reins all have their own trauma and some have had a hard time trusting people in the past.  So when a horse befriends one of the kids you support, the emotional walls they've so carefully built around themselves start to tumble down and that's when God steps in.
You are building a brighter future for Oliver and thousands of other kids in your own backyard because of your generous heart.
Thank you!  And, congratulations on the 20,000 milestone!
In Hope,

Kim Tschirret
Founder & CEO
Hope Reins
Thank you!