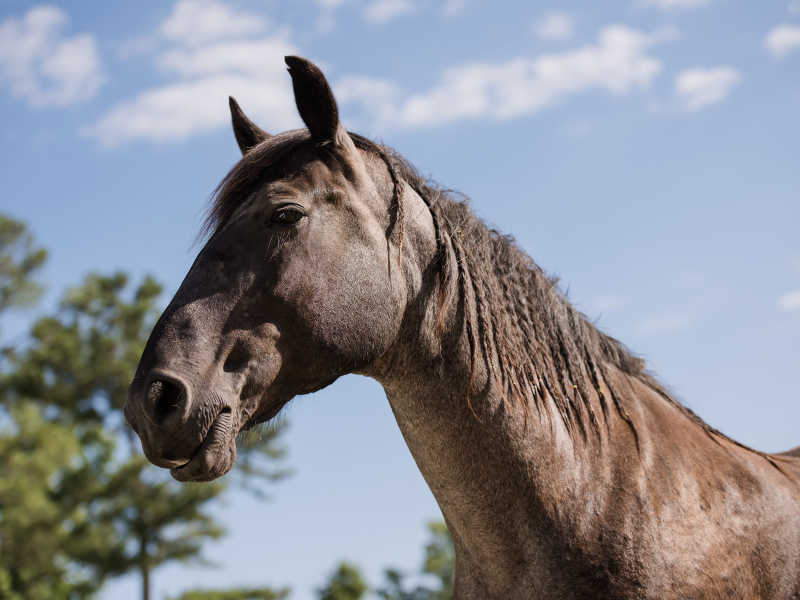 Breed: Percheron Cross
Color: Blue Roan
Sex: Mare
Arrival: March 2015
DOB: 1996
"Three starving horses have just been surrendered and we need a safe place to take them today," came the call from first responders to a rescue group
outside Charleston, SC. The rescue group responded, "We only have space for one of the horses. Bring us the worst case and we will do everything we can to help." A few hours later, an emaciated draft-cross mare stepped gingerly off of the trailer. Her patchy winter coat appeared almost black with hints of gray, though it was not enough to hide the skeletal frame underneath.
A few months later, two of our staff made the drive south to visit several rescue organizations in search of a few special horses for the Ranch. We walked beside rolling pastures, listening to stories of the recovering horses. The owner of the organization pointed one out for us to look at, but our gaze shifted to a large dark draft cross grazing nearby. We asked about her and the owner said she'd only been with them for a few months, but that her recovery from a surrender due to neglect and starvation had been remarkable.
We spent the next several hours getting to know this mare and as we did, one thing became clear. Despite her severe neglect, she bore none of the bitterness or mistrust so often found in horses who have suffered as she did. She had a tremendous willingness to trust and to try. Something inside of her was deeply alive and awake, in spite of everything. We knew that light, that hope, was something our kids at the Ranch needed!
As we considered a new name for this beautiful mare, the Lord lead us to a verse in Jeremiah in which God declares that He will heal and fully restore. Ruka comes from the very special Hebrew word, "arukah," used for that kind of complete restoration and healing.
In sessions, Ruka, or Ru ("Roo") as the kids call her, provides something that we all need when we are struggling – truth wrapped in grace. She is so intuitive that she can mirror exactly what a child is feeling, yet she is so kind, the truth she offers becomes an invitation of total acceptance. If a child is sad or quiet, Ru will lower her head and become very still, making it safe to just be. If a kid is distracted or ignoring her, Ru will drift away to the end of the lead rope, recalling them to their role as leader. If a child is seeking her attention, wanting to engage her, Ru will prick her ears and follow wherever they go. She is the kindest, most patient four-legged teacher on the Ranch!
Ru embodies the hope that Jesus offers to every broken person – a life fully restored. Out of that restoration, Ru welcomes every child she encounters and shows each of them a beautiful picture of God's greatest desire for them – Real Healing.
"'But I will restore you to health and heal your wounds,' declares the LORD,"
Jeremiah 30:17