Building Hope. Two Volunteers You Want to Know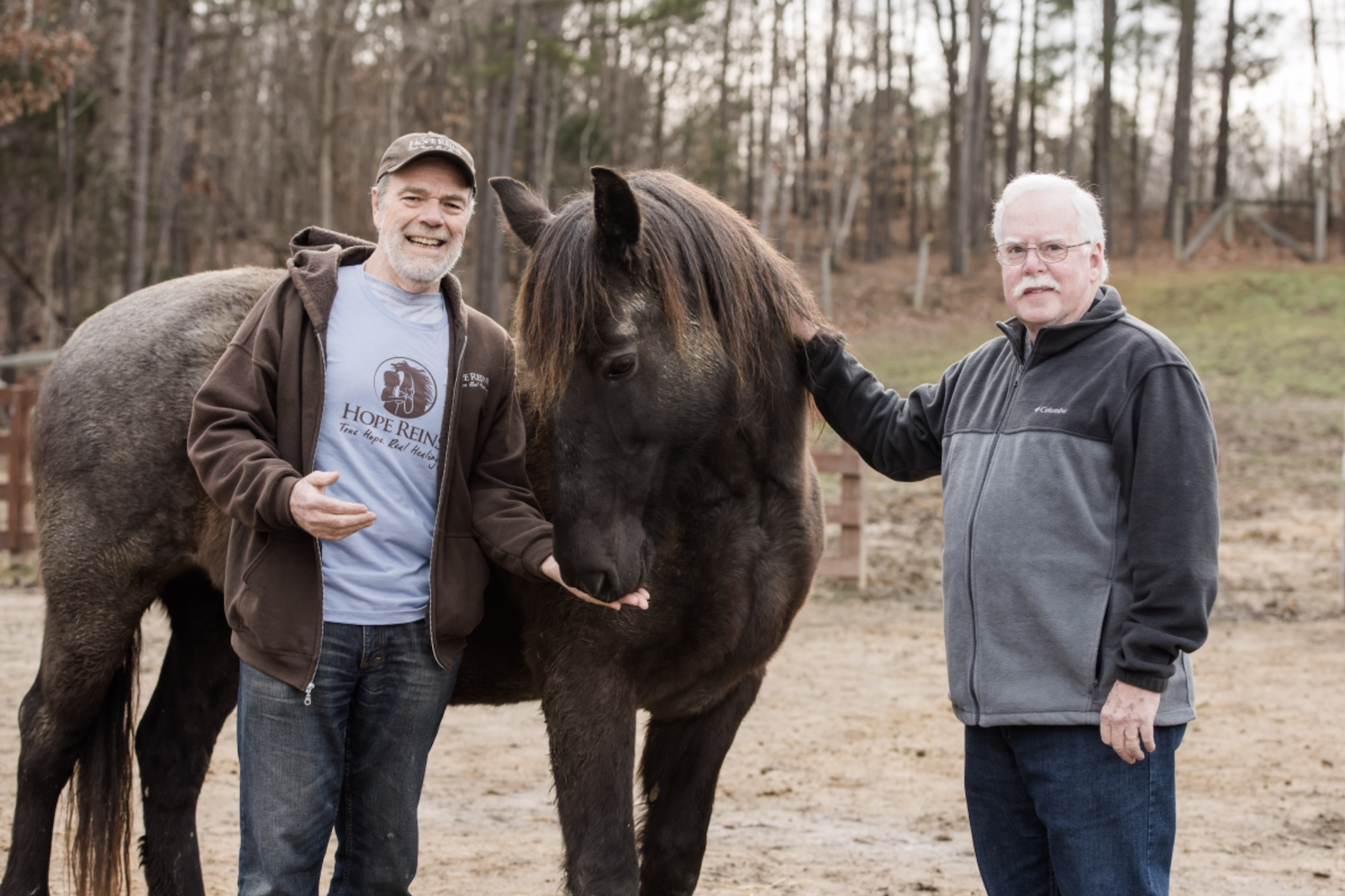 On Saturday mornings, you'll likely find Dave Guy and Ray Martin loitering around the Hope Reins welcome center by 7:00 AM.   The coffee brews inside the lodge as the two crack a few jokes and munch on donuts before compiling a list of to-do's with ranch manager, Brandon Wert.  
The duo is preparing for 8:30 AM Barn Chores, an open door to anyone and everyone interested in volunteering or touring Hope Reins.
"They are as-good-as-it-gets volunteers," says Brandon. "Not only do they understand and champion our vision, but they engage other volunteers and first-time guests with a contagious enthusiasm." 
It's not surprising they seem comfortable working side by side. They've been doing it for 20 years. "We met while volunteering for Habitat for Humanity," says Ray.  "Unknown to us at the time, we both worked at IBM and shared a love to hammer and pound out a week's worth of pent up energy by doing good." 
Ray was the first to visit Hope Reins.  "My daughter had been a competitive equestrian and the sign on the side of the road piqued my interest." After appearing at Barn Chores one morning, Ray was unceremoniously anointed Ranch Hand and never looked back. 
It seemed inevitable that Ray would easily convince his sidekick to volunteer at Hope Reins as Dave spent his early childhood in Portsmouth, England, farming and working around horses, cows, and pigs.  "The atmosphere here is healing," says Dave.  "We still mend fences, paint and build, but most importantly we're impacting the lives of kids."
Dave shares a story about a little boy fishing nearby in the pond last summer while he stained the back deck of the lodge. "I heard this loud holler," says Dave, "and I turned toward the pond and saw the biggest smile stretched across this kid's face holding up a fish he'd caught.  I mean he literally was coming out of himself! So I smiled and waved back, and from that point on, for the next several hours, every fish he caught, he'd holler at me and I'd wave, pumping my fist and celebrating with him," laughs Dave.  "You see it wasn't that he was catching fish.  It was that someone noticed him.  Someone was watching him do something special.  I'll never forget that day." 
No matter how large or small your role is at Hope Reins, you are contributing to the larger story unfolding – one of hope and healing, according to Ray, who loves to share this account that demonstrates the power of team: "During a visit to the NASA space center in 1962, President John F. Kennedy noticed a janitor carrying a broom," says Ray, smiling. "He interrupted his tour, walked over to the man and said, 'Hi, I'm Jack Kennedy. What are you doing?' 'Well, Mr. President,' the janitor said, 'I'm helping to put a man on the moon.'" 
"The rewards here are incredible," says Ray. 
And, at Hope Reins, most would argue they're doing something much more significant than NASA ever could:  Transforming lives while pointing to the one True Creator of heaven, earth and space. 
FAST FACTS (RAY MARTIN):
Born: New Jersey

Retired after 33 years at IBM as Technical Solutions Manager

Wife: Nancy. Three kids, three grandkids, and one great grandson.

Fun Fact:  He's a portrait artist using graphite and charcoal.
FAST FACTS (DAVE GUY):
Born: Portsmouth, England.

Retired after 39 years at IBM as Business Analyst.  

Wife: Janet. Two daughters. 

Fun Fact:  Trained naval architect.