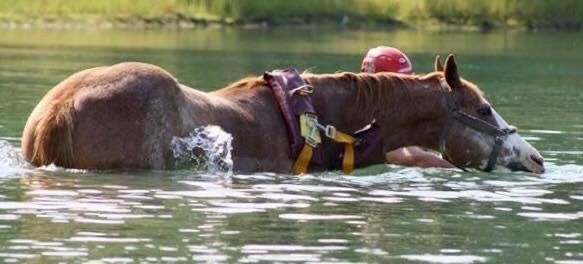 Name: Hero
Breed: Paint
Color: Red Roan
Sex: Male
Arrival: Spring 2021
The dictionary defines "hero" as "a person of distinguished courage or ability, admired for his or her brave deeds and noble qualities."
According to Jewell Horton, who has spent a lifetime rehabilitating and rescuing animals of all kinds, this definition also captures the essence of one specific horse she knows very well.  In fact, she's known him since he was two years old. And his name just happens to be Hero. 
"I would rescue many stallions that were unpredictable," says Jewell, Hero's former owner, "Especially when they were loose in the pasture." "Hero was always the overseer of the herd.  He protected me and kept all the other horses in line."
Like his best friend, Peter, Hero also assisted Jewell in rescue and rehabilitation work, training first responders in disaster relief.
For example, in hurricanes and dangerous flooding situations, fatigued horses need life-saving flotation devices and harnesses to save them from drowning.  Hero would be immersed in lake water while rescue teams practiced rescue techniques on him.
"Out of all the horses I've encountered over the last 20 years,  Hero is the most reliable and steady of them all."
Welcome Hero!