Denise & Suzanne's Story!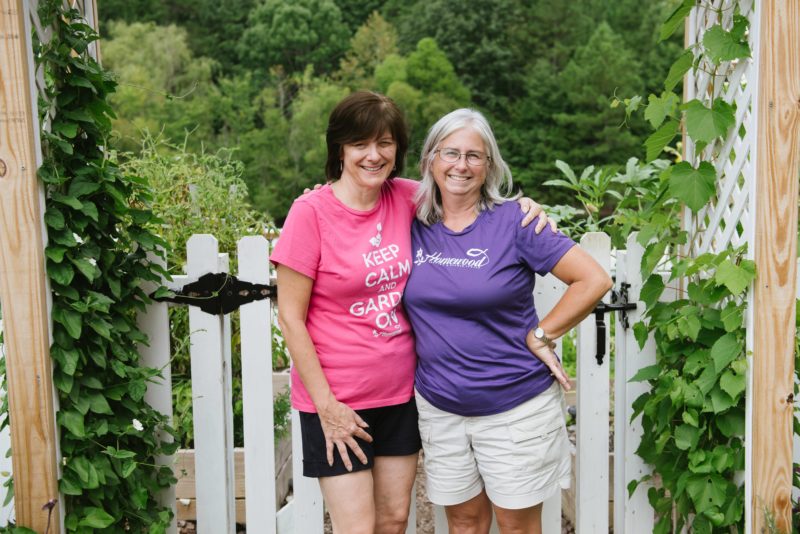 "Hope GROWS."
There are three cheery mailboxes near the white picket gate of Hope Reins' garden.  Denise Etheridge loves to peek into one in particular for its treasure trove of journal entries written by some of the adorable kids who stop by to pick, prune and plant. "I absolutely love reading about kids' experiences in the garden," she says. "There's really no other place like it to connect with God's story. He teaches us patience through love and nurturing."
The Hope Reins community garden sprouted up 4 years ago at the leased I-540 and Creedmoor ranch location.  At the time, Denise, who works as Greenhouse Manager at Homewood Nursery & Garden Center, volunteered on the horse feeding team.  However, Denise's green thumb couldn't stay dormant for long at the ranch – especially when she saw the garden struggling. Once under the masterful gardener's tutelage though, the garden bloomed! "I knew all the horses and their stories but I knew we'd build so many wonderful stories in the garden, too."
When Hope Reins moved to its permanent home two years ago, Denise did what any other creative horticulturist would do – she harvested her beautiful tomatoes, separated and dried the seeds – then transplanted them into the soil at our new garden. "I call them the Hope Reins Variety Tomato!" she laughs.  "Seriously, though, it's emblematic of what happens here – I rescued the seeds, transplanted and nurtured them, and now they're all a mixed-together creation – something entirely new!"
Denise is quick to point out that although she's the grower and very science-oriented, it's Suzanne Carr, garden team coordinator, who is the creative genius behind the garden's overall development. "She lays out the garden and decides what we are going to grow." Suzanne even partnered with a Girl Scout to help her earn the prestigious Gold Award by implementing an array of innovative projects, including a scavenger hunt for kids, mailbox installation, journals, work notebooks and kid's harvesting program.
Both Denise and Suzanne recognize the terms rescue and restore are common themes not only in gardening but also everywhere at the Hope Reins. Says Denise, "The unused plants and seeds just thrown out at Homewood, thrive here. God always gives us grace and another chance."