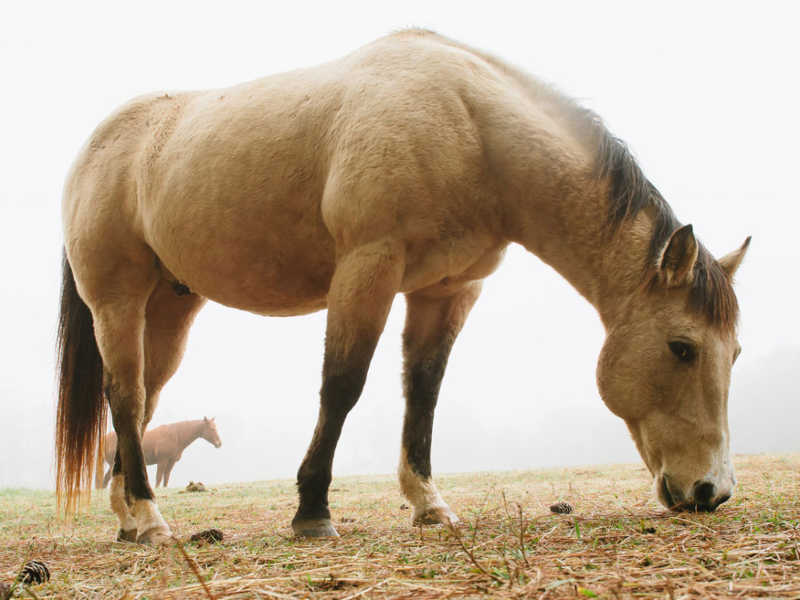 Name: Spirit
Breed: Mustang Quarter Horse Cross
Color: Cross
Sex: Gelding
Arrival: Summer 2012
DOB: 2002
Named for his Disney look-alike, Spirit, stallion of the Cimarron, Hope Reins' Spirit has traveled a long way to find his home at the Ranch. Born in the mountains of Colorado, the young Spirit and his equine family – several siblings and his sire – trained and showed as champion jumpers. They also shared their mountain ranch home with several young children cared for by ranch's owners. For various reasons these children were each in need of a safe place and found refuge with Spirit and his herd.
When the ranch owner's daughter was looking for horses to bring to the North Carolina show circuit, Spirit along with his siblings and sire left the mountains behind and made the great journey across the country to a new home. The long hours in the trailer must have seemed like an eternity, but finally green pastures came into view and the trailer door stretched open to release the newcomers.
Life for Spirit continued as before, training, traveling and showing, each time the trailer delivering him to a new place of competition and then returning him home to familiar pastures. That is until management of the horses' care fell to a new handler. What had been routine and safe suddenly turned into traumatizing experiences of force and fear. As Spirit's anxiety over the trailer increased, so did the severity of coercion it took to drive him into it. In the end when nothing else was working, the handler resorted to throwing firecrackers at Spirit's legs to scare him in. By the time they arrived at their destination Spirit was frozen with fear. He could not find the nerve to back out of the trailer, something he'd done many times before. In frustration, the new handler abandoned Spirit in his place of deepest fear, leaving him without food or water for three days. Finally, resorting to the only thing he knew that worked, he threw more firecrackers at the metal trailer until Spirit flung himself from the compartment in utter desperation.
Mercifully, Spirit was purchased not long after by a young girl and her family who only later learned of the abusive treatment he had endured. They cared for him and did all they could to rebuild the trust Spirit once had in people – and in the trailer. Even with all their love, innocence was lost and his unassuming faith in the safety of the trailer was broken. After years as her faithful jumping partner and a beloved member of the family, Spirit's legs and joints could no longer support her rising competitive career.
The day the young lady brought Spirit to Hope Reins, donating him so that he'd never be misused and always help children who needed a safe place, she explained with great tenderness the arrangement she and Spirit had come to with the trailer. She was glad to know that Hope Reins didn't often need to trailer horses, but even so she demonstrated the workaround she had found to help Spirit face his fear.
"He'll only get on the trailer going forward," she explained. "Trouble is, he won't back off. He'll only get off walking out head first. He won't go where he can't see. So…..you have to turn him around."
Gently, she opened the big back door and moved quietly in beside the stocky buckskin. He watched her untie his lead rope from the overhead hook, a mixture of anxiety and willingness in his eyes. Slowly she turned his nose toward the back of the trailer and its wide open door while her fingers pressed gently on his hind quarters. Following the feel of her pressure, Spirit compressed his body in a way that nearly defied the laws of physics and squeezed his boxy frame
around 180 degrees so that he was facing the open back door leading off the trailer. Ears pricked forward toward the next adventure, he stepped gingerly off the trailer and onto the driveway of Hope Reins.
"I sought the Lord, and he answered me; he delivered me from all my fears."
Psalm 34:4