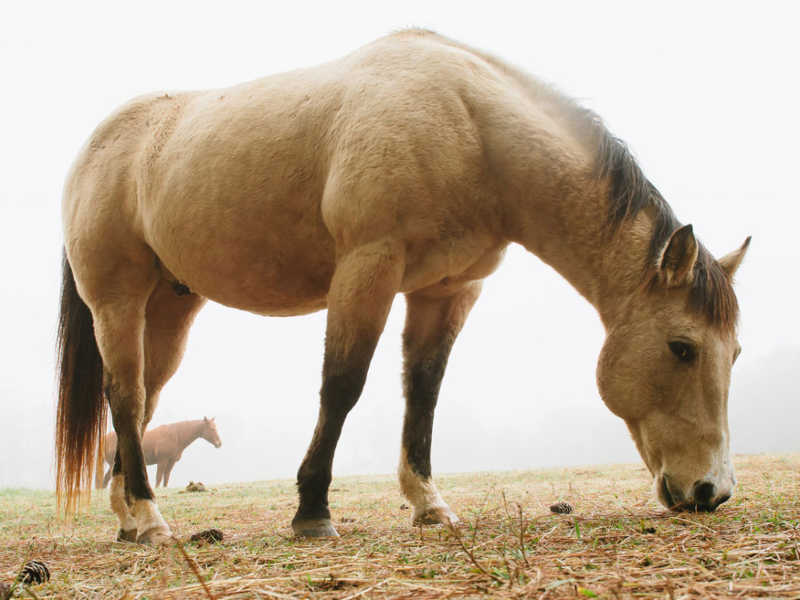 Name: Spirit
Breed: Mustang and Quarter Horse Cross
Color: Buckskin
Height: 14 hands
Sex: Gelding
Arrival: Summer 2012
DOB: 2002
Named for his animated film look-alike, Spirit: Stallion of the Cimarron, Spirit has traveled a long way to Hope Reins. Born in the mountains of Colorado, the young Spirit trained and showed as a champion jumper.
Eventually, Spirit moved to North Carolina and continued to be shown in different competitions throughout the state. Until he experienced a traumatic event with a cruel handler.
Entering and exiting a horse trailer had been a normal routine for Spirit when traveling. But, one particular day, when faced with force and fear, the horse became frozen inside the trailer. Spirit refused to back out. In the end, the handler threw firecrackers at Spirit's feet, further traumatizing the sweet gelding. When he still refused to be unloaded, the man abandoned Spirit without water or food for three days.
Mercifully, Spirit was purchased not long after by a young girl and her family who only later learned of the abusive treatment he had endured. They cared for him and did all they could to rebuild the trust Spirit once had in people—and the trailer. Years later, when Spirit needed to retire from jumping, the family found Hope Reins.
Spirit's last trailer ride was to Hope Reins. And, amazingly, once he arrived, he showed how flexible his stocky body really was! Instead of backing out of the trailer, Spirit had learned to turn his entire body around and walk out head first!
If Spirit had a theme song, it would have to be "Here I Am" from the soundtrack of Spirit: Stallion of the Cimarron. With a laconic personality and seemingly fearless demeanor, Spirit exudes calm confidence. His story is a great testimony to overcoming previous trauma and always being there for a friend. (Spirit was best buddies with the now deceased Joey, who was a blind horse at Hope Reins). Just imagine all the possibilities for adventure with a friend like Spirit in your life!