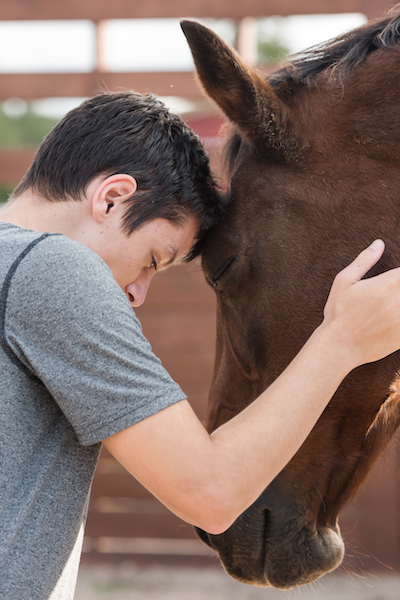 "Hope Reins feels like home to him." – Patricia
Being sold into sex trafficking and smuggled into America was a horrific journey for Patricia. But the worst part: leaving behind 2-year-old Eduardo. Years later, after Patricia's rescue and subsequent petition to bring her son to the United States, the tearful reunion revealed a boy who had been burned in a fiery accident over 30 percent of his body — something no one had ever told his Mother.
Bitter, disillusioned and suffering from PTSD, Eduardo was connected to Hope Reins through The Salvation Army's Project Fight, which provides comprehensive case management to survivors of human trafficking.
As a Kairos Kid, Eduardo started free sessions with Jesse, a rescued horse that when found, was missing half her tongue and 30% of her body weight from starvation. But the beautiful mare learned to love and trust again at Hope Reins, a meaningful message that resonated with the 12-year-old Honduran boy.
Over the next months, Eduardo began to feel safe and valued. His session leader, Hannah, says that early in their relationship he wore long-sleeves on scorching summer days to conceal his scars. "I couldn't imagine how hot he was." He now wears t-shirts.
Eduardo's resiliency is an inspiration to everyone at Hope Reins.