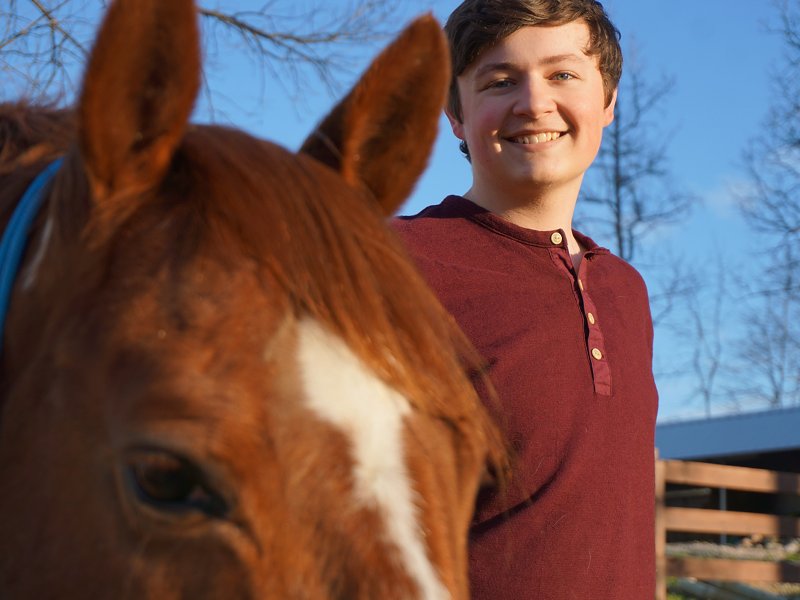 Lonely. The word can describe anyone at some point in life, but for David, feeling alone began at the age of 3, after his birth mother took his sisters one night and left him behind.
Although David was placed with his Dad, Scott, and soon thereafter a new and loving Mom, Kimberly, joined the family – guilt, confusion, and sadness still permeated his life. "David had so much turmoil at an early age, it was heartbreaking," says Kimberly.
He faced ADHD and marked anxiety in elementary school and as the teen years progressed, David's emotional and physical health began to deteriorate. "After missing his 8th-grade graduation, we spent a year focused on getting him the help he needed."
Now 15, David struggled to reintegrate back into school as well as form significant relationships, especially with peers. "He'd eat lunch by himself in the cafeteria," says Kimberly.
But, then they found Hope Reins. "We move heaven and earth to get David to the ranch." In addition to the camaraderie he's built with other kids his age in the teen mentorship program, Build, he's also developed an incredible bond with Sparrow and his session leader, Heather. "Normally, he doesn't talk very much, but he's so open with Heather."
According to Kimberly, Hope Reins is David's safe space, his place just to hang out and be himself. "My prayer is one day, others will know what an incredible young man he is."
Support Hope & Healing!
Supporting the care of horses enables us to continue offering free programs to our kids, but caring for them is not cheap. They require a great deal of food, grooming and veterinary care.
Would you consider committing to a $25 monthly sponsorship, making a onetime donation, or signing up to serve at the ranch?