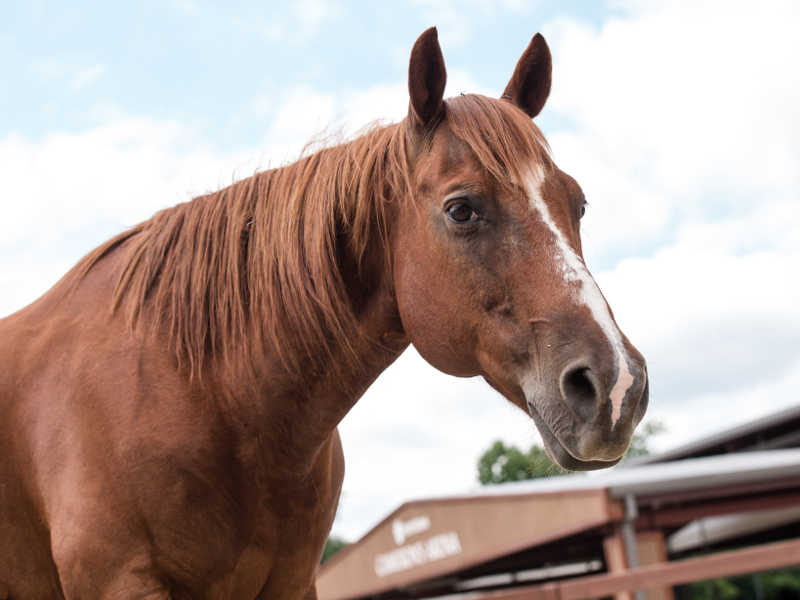 Name: Sparrow
Breed: Quarter Horse
Color: Copper
Sex: Gelding
Arrival: Summer 2016
DOB: 1990
What is "home"? Perhaps it's a certain city or town, a place you live with family, or a feeling of safety and security. Many kids who come to the Ranch struggle with what home really means. They have been homeless, abandoned, lived in group homes, foster care, or adopted into new families. It can be difficult to
find anyone who understands the unrest, the sense that they belong somewhere else – or worse, that they don't really belong anywhere at all. Until they meet Sparrow.
The gentle, copper colored gelding has experienced more than his fair share of difficulties with the idea of home. In his first home, Sparrow received little attention. He was not well cared for and the other horses picked on him mercilessly. Sparrow was so unhappy that he tried several times to run away, jumping
the fence and trotting off only to be returned each time.
One day a young girl saw Sparrow and bought him to be her companion. Over time, they build a sweet relationship of trust and respect. For the first time, he began to feel a sense of rest and belonging. After ten blissful years together, a devastating diagnosis came. The young woman's illness slowly stole away her energy, her ability to go out to the barn, and eventually, when she was no longer able to keep Sparrow, it stole the sweet sense of home that she and Sparrow had built together.
In the midst of this traumatic loss, a good friend offered to foster Sparrow until they could find another home for him. Pam, who was also a dedicated Hope Reins session volunteer, brought Sparrow to her beautiful, sprawling farm, but the more she got to know him, the more she believed he belonged at Hope
Reins.
The first time we met him, Sparrow appeared to be remarkably unremarkable. His dull brown winter coat did little to hide a lanky frame. He was not particularly handsome. His eyes were guarded though he tried to be obedient. As we walked around the arena together, there was a distinct sense of inner conflict
about him. He wanted to follow and at the same time defiance bubbled just under the surface. It didn't feel like defiance against us, but rather against the hand life had dealt him, the loss of his dear friend and that once again, he belonged nowhere.
Sparrows – the birds – are not particularly striking. They are small and frail. They don't come in flashy colors, but blend into their surroundings with their plain brown feathers. It would be easy to overlook a sparrow. But God tells us that not one sparrow that has ever existed has been forgotten by Him (Luke 12:6).
It was three months before we were able to bring Sparrow to the Ranch. On a hot July day in 2016, the trailer bearing what we expected to be the scraggly, plain little brown horse pulled in the drive. The horse that stepped off that trailer shocked us all. Under Pam's attentive care, Sparrow had transformed. He had filled out, his mane and tail were long and silky, and his deep copper coat now glimmered in the bright sunshine. He was absolutely stunning!
Before we saw this transformation, we had chosen the name Sparrow because he represented to us all who have felt overlooked, who have lost a sense of belonging or never had one at all. But God does not see the way people see. The horse who stepped off that trailer is a living picture of the way that our Father sees us. It is with great compassion that Jesus tells us in Matthew 10:31, "So do not fear; you are more valuable than many sparrows." In His eyes, we are precious, we are so loved and we are never forgotten. As the old hymn so beautifully reminds us, "When Jesus is my portion, a constant friend is he. His eye is on the sparrow and I know he watches over me."
"How lovely is your dwelling place, Lord Almighty! My soul yearns, even faints, for the courts of the Lord; my heart and my flesh cry out for the living God. ​Even the sparrow has found a home, and the swallow a nest for herself, where she may have her young—a place near your altar, Lord Almighty, my King and my God. Blessed are those who dwell in your house; they are ever praising you."
Psalm 84:1-4
Support Hope & Healing!
Would you consider becoming a monthly donor, making a one-time donation, or joining our mailing list and donating your time toward our ministry helping hurting kids find true hope and real healing?