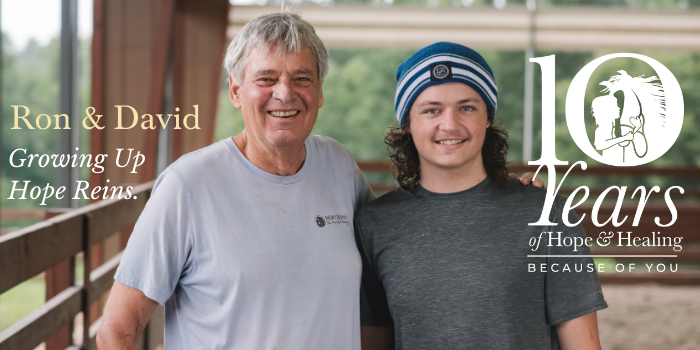 Growing Up. Hope Reins.
Hope Reins Mentorship Program
Five years ago, tears stung Kim's eyes as she shared her greatest wish for her struggling son. "My prayer is that one day, others will know what an incredible young man he is."
Today, because you believe in helping wounded kids heal, that 13-year-old boy is now a strapping, confident high school senior.
He used to eat lunch alone every day at school. He never communicated with anyone outside his family.  But now, he borrows the family car and takes his buddies out for a burger. He works shoulder-to-shoulder Saturday mornings with a team of ranch hands at Hope Reins. He's even interviewing for a part-time job.
You changed the trajectory of young man's life by investing in Hope Reins.
David's world unraveled at age three when his birth mother took his sisters and abandoned him. Although he moved in with his father and loving, new mother, the shy little boy carried deep emotional scars of shame throughout his early adolescence.  
After spending 7 weeks at UNC Children's Hospital for psychiatric evaluation and treatment, David was diagnosed with Attention Deficit Disorder, anxiety and depression.   
By his first year in high school, the family had tried a myriad of treatments for David, but nothing proved promising.
But Hope Reins.  "His demeanor changed when he started at Hope Reins."  And, according to Kim, even though things still proved challenging at home, they moved heaven and earth to get their son to the ranch as much as possible.
For kids like David, withdrawn and struggling with confidence, a horse can become a beacon of light.  A big and powerful animal nuzzles you.  He chooses to be with you.  For David, it was the first time he felt accepted for who he really was.  "We worked on basic leadership skills," says Heather, his session leader.  "Over the months, as David built up confidence and trust, he expanded this into the wider world and to people."
David joined Build, a mentorship program with other boys his age that met weekly at the ranch. "He started out more as an observer," says Kim, "but he loved his leader and eventually it became an important program for him to never miss."
He also became a founding member of Kids Give Back, which focused on leadership and volunteering at the ranch with his peers.  Heather asked David to join her a few years ago to help with Christmas at the Ranch, which hosts families from the area organizations like the Raleigh and Durham Rescue Missions.  "What struck me," says Heather, "is that someone who had been so hurt by others could grow into such a compassionate young man."
David also started volunteering on the feed team.  "He was very quiet at first," says Ron, who headed up the program. One night, after finishing up with the horses, they waited together for David's dad to arrive.  "We stood in silence for a moment," says Ron.  "Then I just started asking him his opinion on things and out popped this interesting, smart young man."
The two have been working together as ranch hands ever since.  According to Ron, a retired restaurateur and helicopter pilot, "It's my favorite part of the week."
Kim says she can't pinpoint the exact time she knew her son turned the corner. "The people at Hope Reins just continued to validate David every step of the way," says Kim.  "It's changed his life.  And ours. I mean what teenager willingly gets up at 7:00 AM every Saturday morning?"
Remember Kim's greatest wish?  Your philanthropy matters.  You helped answer her prayer!  
As for David, he agrees his transformation was a steady and slow progress. And, most importantly, it never felt like 'therapy.'
"I remember all the silly toys and gimmicks my therapists had used. It made me feel like something was wrong with me."  He says being outside in the fresh air with people and horses who didn't push him to talk was therapeutic in itself. 
"I just want to thank donors for making Hope Reins possible," says David.  "It's done more for me than any other treatment ever did."
Thank you, for believing in the healing power of relationships. 
John 15:12
"My command is this: Love each other as I have loved you."