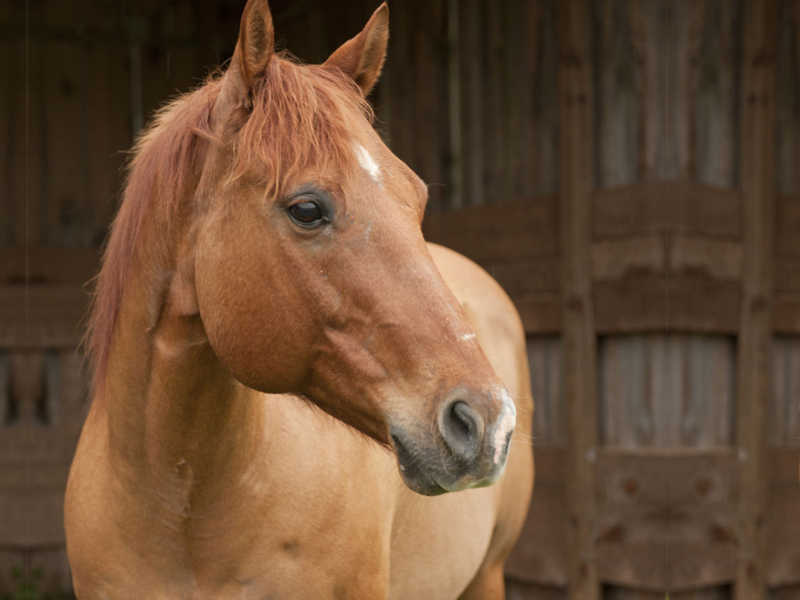 Breed: Quarter Horse
Color: Sorrel
Height: 15 Hands
Sex: Gelding
Arrival: 2013
DOB: 2001
Kody has always been good with kids. While living at a riding school, he taught kids of all ages and skill levels how to ride, jump and compete successfully. This quality made him a faithful favorite of the children he taught.
Kody continued 'teaching' riding lessons for many years, until a cheery, upbeat woman named Mary Beth purchased him as a companion for her aging special needs gelding. Mary Beth also volunteered at Hope Reins as a devoted session leader. She was especially good at working with younger girls in need of playful friendships and who loved to connect deeply with our horses.
Years passed and it became clear that Mary Beth's old gelding had to move to a facility better suited to care for him. Mary Beth wondered what to do with sweet Kody. Knowing Hope Reins as well as she did, she was convinced that Kody should join the herd and reconnect with his gift of helping children.
In his nature, Kody is obedient and inclined to follow the rules. Whatever job is asked of him, he will execute it faithfully. The only trouble is that sometimes, despite his outward obedience, his heart is not really in it. This was made clear the day he first gave us a glimpse of the playful Kody longing to break free
from the confines of stoic obedience.
Standing in the arena with his trainers chatting not far away, Kody spotted a training stick leaning up against the fence. Trying not to be noticed by the trainers, he took several tentative, shuffling steps toward the training stick, as if unable to help himself. When the volunteers looked around, he froze on the spot. They grinned and resumed their conversation, eager to see where this might go. Sticking his neck as far out as he could, Kody bopped the training stick with his nose, knocking it to the ground. The volunteers burst out laughing, not the reaction Kody was expecting. The sound made him jump back, as if his curiosity had gotten him in trouble. But the chastising he anticipated did not come. Instead, the volunteers just chuckled and lovingly rubbed him on the neck.
Kody continues to learn he is safe to be himself at Hope Reins. Like so many of us, Kody can put up a great looking facade that belies his true feelings. His job is still to teach and help children, but this time he isn't only teaching them how to ride. He is also teaching them how to feel safe, trust, be aware of other's needs and to be confident in who they are. Just as Mary Beth hoped, Kody is reconnecting with his gift and purpose in life – to help children in need. That is, after all, why we named him Kody – which means "helper."
128 Hope Reins Kids Sponsored:
80% of Goal. Light the path so kids can see Hope this Christmas.
Will You Light the Path Forward, Too?
By supporting our equine mentorship program, you're providing all the tools kids need to build their resiliency muscle. When they walk through our front gate grieving, hurting and feeling utterly alone, you are part of a coalition of hope and healing that meets them in their pain with wide open arms. You, a caring mentor, our herd of very special horses and Jesus Christ light the path forward.
There are 160 kids on our new pathway who need your help today. Will you help?