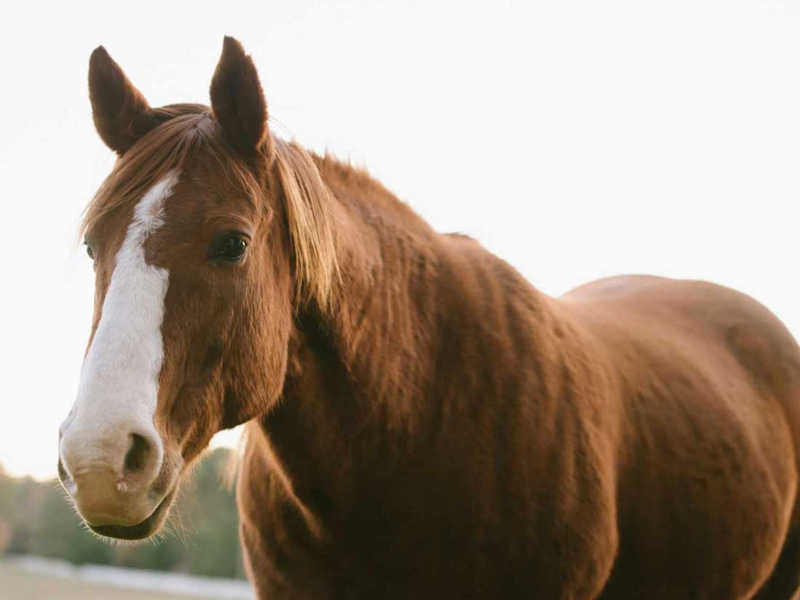 Name: Buddy
Breed: Quarter Horse
Color: Chestnut
Sex: Gelding
Arrival: July 2011
DOB: 1993
It was a gloriously bright, beautiful spring day in 2011 the first time we laid eyes on Buddy. His owner, a long time horseman with a steady, cowboyish manner, lead us around the outside of the barn to meet him. As we walked, he told us about Buddy's gentle nature, his trustworthiness and his kindness. He explained
simply, "His name is Buddy because…well…that's what he is."
Squinting against the sun, we followed the cowboy along rows of stall doors, each opened at the top to allow a gentle breeze to pass through. Our anticipation mounted as we continued past one stall after another – until a chestnut-colored head with a bright, white  blaze and big, curious eyes popped over one of the doors. The cowboy smiled. It was clear that Buddy had been well loved and well taken care of his whole life by this man. They'd been friends and ridden trails together all over the state since Buddy was just three years old. The bond between them was evident.
But the old cowboy was retiring and could no longer keep his sweet Buddy. He'd heard of Hope Reins and liked the idea of his friend becoming a buddy to kids who really needed someone to love them – to choose them – to follow them anywhere.
When it came time to load Buddy, the old cowboy took the lead rope and walked silently into the trailer, leading his friend for the very last time. Buddy followed easily, perfectly in step. One final rub, a small nod, and the cowboy stepped off the trailer and closed the door. His eyes were filled with tears. We
invited him to the Ranch to visit his old friend anytime he wanted. He just nodded at us politely, then turned and walked away.
Some gifts are precious because of their inherent value. Some gifts are precious because of the heart of the giver. And some gifts are both.
Since his arrival at the Ranch, Buddy has indeed befriended many of the children we serve. His sensitivity, willingness, and genuine liking for people have made him a favorite of many. True to his Quarter Horse breeding – and because of the love given by a sweet cowboy – Buddy is an authentic and loyal friend.
Become Buddy's Monthly Sponsor!
Supporting the care of horses like Buddy enables us to continue offering free programs to our kids, but caring for them is not cheap. They require a great deal of food, grooming and veterinary care.
Would you consider committing to a $25 or more monthly sponsorship?
128 Hope Reins Kids Sponsored:
80% of Goal. Light the path so kids can see Hope this Christmas.
Will You Light the Path Forward, Too?
By supporting our equine mentorship program, you're providing all the tools kids need to build their resiliency muscle. When they walk through our front gate grieving, hurting and feeling utterly alone, you are part of a coalition of hope and healing that meets them in their pain with wide open arms. You, a caring mentor, our herd of very special horses and Jesus Christ light the path forward.
There are 160 kids on our new pathway who need your help today. Will you help?