Did you know North Carolina kids and their families are caught in a mental health crisis? A new study by the Journal of the American Medical Association shows only half the kids in our state facing emotional trauma received treatment or counseling last year. The Journal ranked North Carolina last when it comes to children and teens, aged 6-18, getting the help they need.
We know you find this as unacceptable as we do.
Trauma begets Trauma.
Another major study reveals a direct link between childhood trauma and the onset of chronic disease, mental illness, violence and becoming a victim of violence.
But there's a solution for our kids.
Recovery is possible if they have one safe relationship, a caring support system and effective treatment. They also need to learn to regulate their emotions and above all, build their resiliency muscle.
By supporting Hope Reins and our equine mentorship programs, you provide ALL of these tools at no cost for kids and their families.
When they walk through our front gate grieving, hurting and feeling utterly alone, you are part of a coalition of hope and healing that meets them in their pain with wide open arms. You, our herd of very special horses and Jesus.


"We know healing is possible for hurting kids when they are surrounded by safe, caring relationships." (Kim Tschirret)
A Note From Kim:
I hope you had a wonderful, restful summer. The sights and sounds from our kids hailing from different partner organizations around the community kept our camp counselors and horses on their toes and hooves this summer!
Because of you, 80 kids from Durham Rescue Mission, Refugee Hope and The Salvation Army hiked, fished, built birdhouses, rode horses and learned about Christ at the ranch. This was a record-breaking number of scholarships! Thank you for their restorative experience.
As you know, over the past two years, we narrowed our enrollment to only kids experiencing a serious traumatic event or facing multiple Adverse Childhood Experiences (ACE's). We knew this segment was where God was calling us to serve.
Since then, parents completed a survey to give us feedback on our programming effectiveness – and I know you'll be encouraged by the results: 100% of those surveyed reported sessions had a positive impact and reduced anxiety and/or depression in their child or teen.
What's more, almost 95% of parents say they saw improvement in the issue that brought them to Hope Reins in the first place. Lives are changing because of your support.
We know healing is possible for hurting kids when they are surrounded by safe, caring relationships. And, equine therapy's strength in teaching confidence, trust and other necessary skills to navigate life successfully is well documented.
Over the next few months, you'll be hearing about Hope Reins' 2020 programming pathway — a three-year, five-step program that initially doubles one-on-one sessions for kids in the first four months of enrollment. The time they need it most.
They will build needed skills in trust, boundaries, communication and leadership as well as learn to flex the critical resiliency muscle as they progress to finally join Kids Give Back year three.
Remember, the journey these kids take from crisis to resilience would not be possible without your generous support.
Finally, I hope you enjoy reading about one of our kids, Ian, and new board member, Ruby. I had the privilege of being Danielle's listener (Ian's Mom) for a brief time and they are an amazing family.
And, what can I say about Ruby other than we are so thankful she's here at Hope Reins.
Enjoy the cooler weather!


Kim Tschirret
Founder & CEO
PS: If you've not joined us for a Stories of Hope Tour, you are missing out! Register for a behind-the-scenes look at the ranch: hopereins.org/tour


"It was the first time I'd heard my kid laugh in over a year." (Ian's Parent)
From Darkness to Light: Meet a Family You Helped!
Ian lived an idyllic life. The 14-year-old played competitive baseball and excelled in school.
But when diagnosed with Chronic Intractable Migraines a few weeks into his sophomore year of high school, his world turned dark.
All normal medical protocol for the long-lasting and very severe headaches – medication, spinal taps and facial nerve injections – failed to alleviate his unending pain.
He withdrew from school and spent the next year curled up in bed, alone and depressed.
"It was the longest year of our lives," says his mom, Danielle. "But even after his migraines subsided, the emotional burden of being isolated for so long took a horrible toll on him."
As Danielle explains, Ian left behind a world full of friends, challenging academics and personal successes only to return 12 months later to nothing and no one, except his family. "Everyone had moved on. It was like he'd died," says Danielle. "Ian questioned his relevance."
After enrolling back in school, Ian struggled with anxiety and panic attacks. By Thanksgiving week, his behavior became so erratic and alarming, Danielle and her husband admitted Ian to Holly Hill Hospital on suicide watch.
"We were losing the battle to keep Ian safe from himself."
Danielle and her husband researched in-patient psychiatric treatment centers, home hospital options and long-term behavioral camps, all expensive options which would require them to cash out their 401K.
One night, while desperately searching Google for answers, Hope Reins popped up on Danielle's computer screen. "Ian loved horses, so I thought equine therapy might be a possibility."
She called Hope Reins the next day, secured a spot in the spring season, and coaxed him to join her for Barn Chores that Saturday.
"We scooped poop right alongside a group of horses in the paddock," says Danielle, smiling. "And, of course Ian was totally perturbed and freezing, but he kept shoveling."
The more Ian worked, the more Buddy, Hope Reins' amiable quarter horse, became intrigued with him. "Buddy kept walking over and nudging Ian's back with his muzzle," says Danielle. "To the point where Ian just busted out laughing. And I tell you, it was the first time I'd heard my kid laugh in over a year. I knew right then that we were supposed to be here, at this place, Hope Reins."
Once enrolled in one-on-one sessions, Ian thrived. His mentor, Karen, became a close confidant and Abby, a towering but gentle draft horse, complimented the teen's lanky frame.
"To have an encouraging adult like Karen, who wasn't trying to fix him but just listen, was a turning point for Ian," says Danielle.
After a year at Hope Reins, Ian rediscovered his self-worth, confidence and zest for life. Says Danielle: "He would not be here today if I'd not found Hope Reins."
Ian enrolled this fall as a freshman at Lenoir-Rhyne University pursuing a master's in education. And although he'll always likely grapple with migraines, the powerful tool of resilience found at Hope Reins will stay with him forever, too.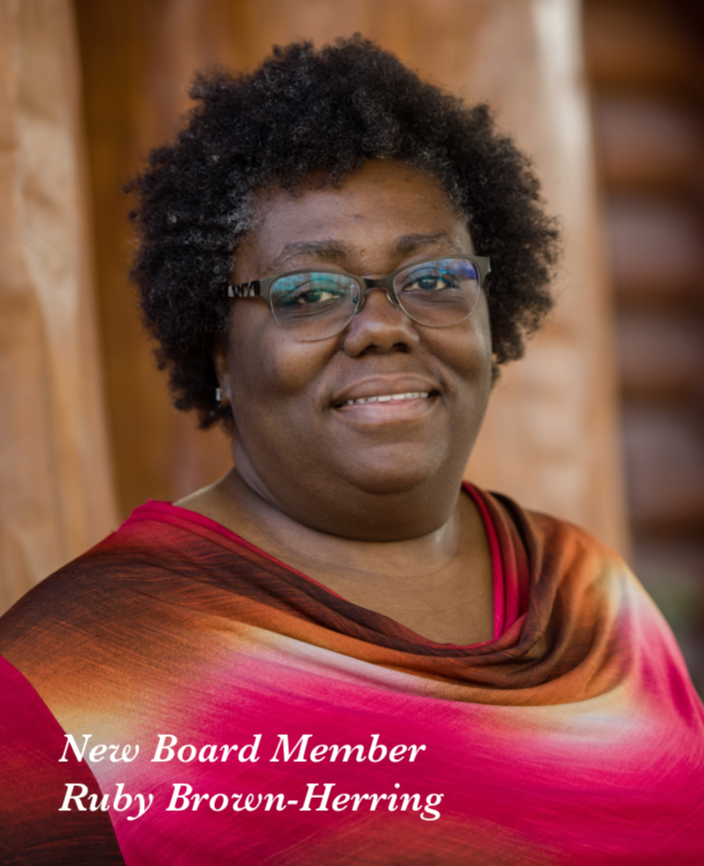 "We learned to not ask 'what's wrong with you.'" (Ruby Brown-Herring)
Ruby Brings In-Depth Knowledge of Trauma to Board of Directors 
Meet Your Newest Advocate in Hope & Healing!
Ruby Brown-Herring is an expert in her field. With over 20 years of experience in mental health program management, she oversees statewide juvenile justice, mental health and substance abuse policy and programming for the NC Division of Mental Health, Developmental Disabilities and Substance Abuse Services.
She also advises the National Center for Child Traumatic Stress, teaches Mental Health First Aid and owns Herring Training and Consulting, LLC, which provides mental health training to nonprofits, school systems and colleges.
But despite all the professional expertise and knowledge, nothing prepared her for when she and her husband, Ty, admitted their daughter, Tamryn, to Holly Hill Hospital with major depressive disorder and suicidal ideation five years ago. "Everything I'd trained for went out the window," says Ruby. "It was me, Mom. It was so difficult."
When Tamryn's outpatient counselor recommended Hope Reins, Ruby wasn't too sure about equine therapy. "Tamryn had never been an outdoors girl," she says.
To her surprise, Tamryn loved the horses and thrived at the ranch. "She learned to express herself with her real feelings," says Ruby.
"Also, for her to get a horse to move from point A to B, was such a confidence booster."
When Hope Reins CEO & Founder Kim Tschirret met Ruby, she immediately recognized the rich knowledge the mental health professional could share with the nonprofit and eventually persuaded her to join the Board of Directors.
"Ruby shed a whole new light on how we look at trauma," says Kim. "We learned to not ask 'what's wrong with you.' Instead we ask 'what happened to you.'" This paradigm shift, according to Ruby, is the essence of being a trauma- informed organization.
Hope Reins' three unique attributes – ranch, rescue and restoration – line up amazingly well, says Ruby, with the three pillars of trauma- informed care: safety, connections and managing emotions.
"Traumatized kids need safety, and Hope Reins is a safe place." They also need one safe relationship in their lives – an adult who can understand the pervasive impact of pain. "By building a relationship with a horse, kids can grasp God's redemptive relationship with us."
And equine therapy offers ways to effectively learn how to manage emotions and channel skills necessary to succeed in life.
"When kids and their families are in acute crisis, they crave secure, nonjudgmental relationships. We wrap ourselves not only around the child, but the whole family."
Welcome to our family, Ruby. We are so glad you're here!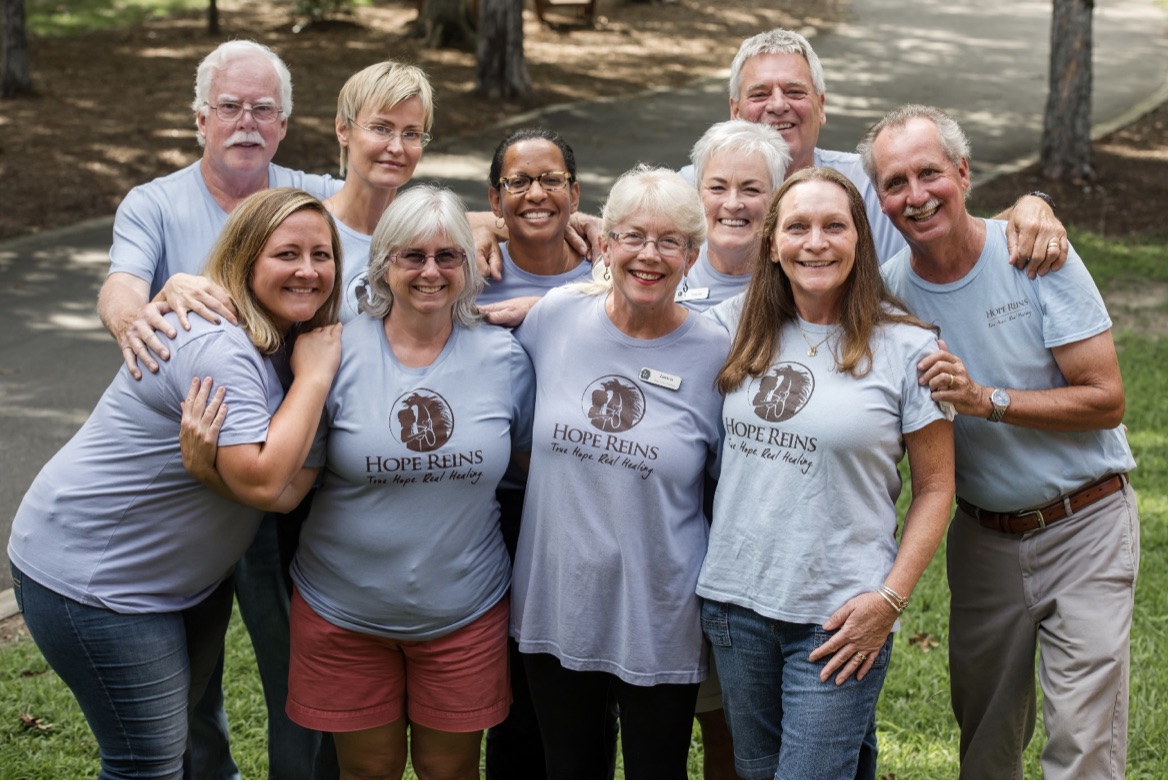 These are YOUR people!
Meet the Volunteer Leadership Team
What does an environmental consultant, a retired teacher, a horticulturist and lawyer have in common? They are a few of the members in our Volunteer Leadership Team!
Despite the groups' divergent professional careers, they all share a deep love for Hope Reins. Their main goal is to facilitate two-way communication between Hope Reins' army of 200+ volunteers and staff members. Thank you all for your service!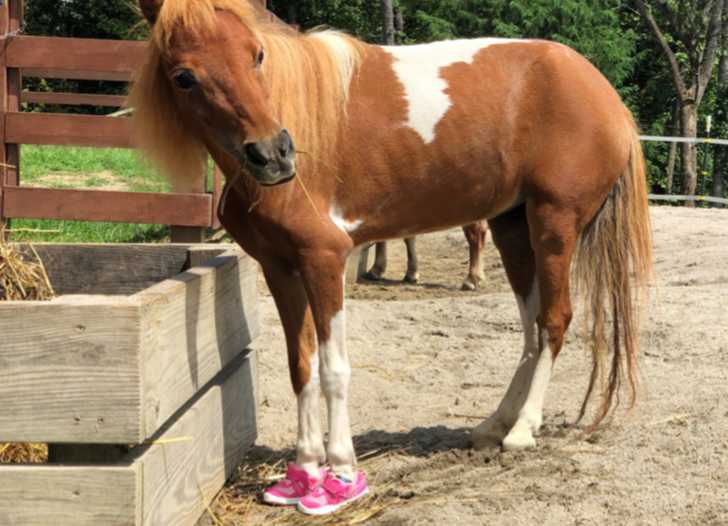 Thanks for Supporting Twinkle Over the Years!
In case you missed it, our micro- miniature horse, Twinkle, is a bit of a viral internet star now after being fitted in a pair of pink sneakers to help support her malformed feet.
In a remarkable touch of creative hoof care, Hope Reins' "fashion-forward" farrier, Lisa Ross, thought the extra cushion would help Twinkle's foot pain due to missing one-third of her coffin bone in both front hooves. (The coffin bone is the foundation of the horse's foot and provides strength and stability).
Your support this Christmas will provide life-changing hope to 160 kids at the ranch. To learn more, visit: hopereins.org/lightthepath