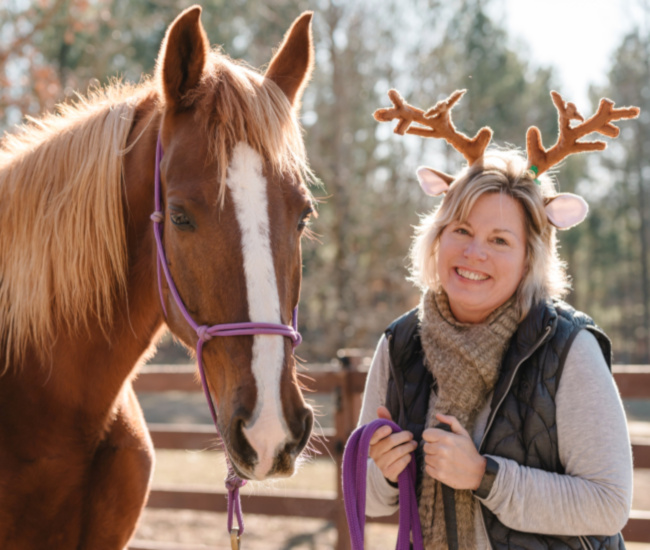 Name: Selah
Breed: American Saddlebred
Color: Brown
Sex: Mare
Arrival: Winter 2014
DOB: 2008
We first experienced Selah as most people do – as a force of nature. With a sharp mind and champion bloodline, Selah embodies the graceful exuberance that characterizes the Saddlebred breed. But beneath the exquisite award-winning exterior brewed a storm of mistrust and fear.
The day we went to see Selah, another storm was gathering. As we drove cautiously up precarious mountain roads, cold sideways rain and sleet loomed in dark clouds ahead. We knew Selah's early training had been traumatic and that she had been abandoned to an owner hoarding more than 40 Saddlebred horses on a farm too small to sustain them.
Eventually, when rescuers found her locked in a stall, Selah stood knee-deep in muck without food or water. She was one of only eleven horses to survive. Even after her rescue, she had been adopted and returned five times in as many months.
Selah had never known safety or stability in her life. As we arrived, the wind picked up and cold rain pelted down. We bundled up our coats against the cold. Selah, sensing yet another change in the air, danced nervously on the end of the lead, ears flicking this way and that, eyes wide and wary. We realized she was too fearful to load into our trailer, so we arranged to transport her in a larger one later in the week. The mood on the ride home was somber and pensive. This mare had been through so much pain and suffering. Her trust had been completely broken. And yet we knew that Jesus had walked straight into the storm – the literal storm when he sent his disciples ahead of him in the boat – and the storms of life that rage and threaten to overwhelm and consume us. Jesus walked straight in, ever in control, and with a word, he calmed the storm. As we left the mountains, the rain and the wind behind and pulled into the Ranch, a feeling of great hopefulness replaced any doubt that if Jesus could calm those storms then He could also bring peace – "selah" – to this restless mare.
During her first few months at the Ranch, Selah would barely let anyone touch her. She paced large circles around her grain during mealtime, snatching panicked mouthfuls as she walked by.
Eventually, she allowed us to hold her bowl and speak quietly to her as she ate. Building upon that trust, we spent hours sitting in the field with her, asking nothing but just to be with her.
Eventually, Selah allowed us to touch her, then to put her halter on, and finally to lead her around the pasture. Her faith in people was slowly being rebuilt.
Selah's journey of healing continues even today. While her body has recovered from the darkness of that abandoned stall, her heart is still mending. She is believing more every day in the safety and love offered to her. And we are reminded every time we see her of how symbolic she is of so many of us. All of us experience the turmoil of the storm – sometimes the result of our own choices, sometimes because of the choices of others.
Selah's name is scattered throughout the Psalms. It means "to rest, to wait, to ponder." Rest in the storm is only possible when you know that there is One who is greater than the storm – and he is both with you and for you. Ultimately, Jesus threw Himself into the storm of God's justice so that we would experience peace, safety and love. Because of Jesus, we can "selah" in the storm.
"For thus says the Lord GOD, the Holy One of Israel, "In returning and rest you shall be saved; in quietness and in trust shall be your strength."
Isaiah 30:15