Annabelle and Michaela's Story!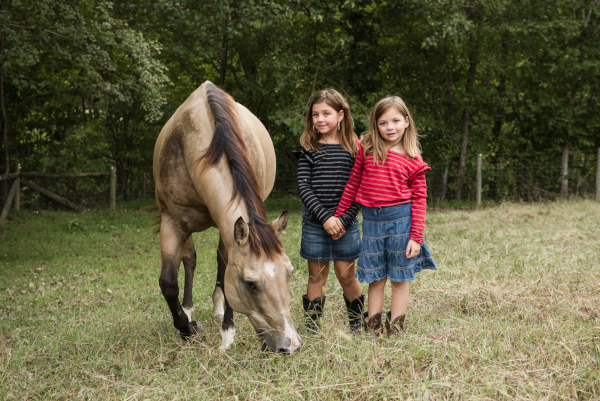 "We've got an incredible God.  And, Hope Reins."  Theresa
Overnight, Theresa, a 28-year-old pediatric oncology nurse, became a mother to three: Annabelle, 9, Michaela, 7, and Oliver, 3.
It was a daunting proposition, but she couldn't stand by and watch the lives of her sister's kids destroyed by domestic violence.
When Oliver ended up in the hospital after ingesting his mother's prescription medication, Theresa knew she had to act. "Everything looked good from the outside but was crumbling inside."
Theresa and her church small group prayed and worked their way through  a tangled legal system that eventually granted her emergency custody of  the kids. And, ultimately, both her sister and her brother-in-law surrendered parental custody.
Even though Theresa won the kids, she knew it would be a long journey repairing the emotional wounds, especially as a single mother. "Their trust had been shattered," she says.
The girls are now Kairos Kids at Hope Reins. They've discovered the simple love, understanding and acceptance that comes from forming a relationship with a horse.
According to Karen, one of their session leaders, they've been able to channel anxiety into purposeful activities and learn to regulate their emotions by being "present" with the horses.
"The ranch is like this amazing miracle in our lives," says Theresa. "We would never had made it through all of this without Hope Reins."
Will you help us sponsor 100 Kairos Kids on our waiting list with stories like Annabelle and Michaela's? Visit www.hopereins.org/kairos to learn how you can give hope this holiday season.

Support Hope & Healing!
Supporting the care of horses enables us to continue offering free programs to our kids, but caring for them is not cheap. They require a great deal of food, grooming and veterinary care.
Would you consider making a donation towards Kairos Kids like Annabelle and Michaela?
Support Hope & Healing!
Would you consider becoming a ranch visitor, making a one-time donation, or joining our mailing list and donating your time toward our ministry helping hurting kids find true hope and real healing?