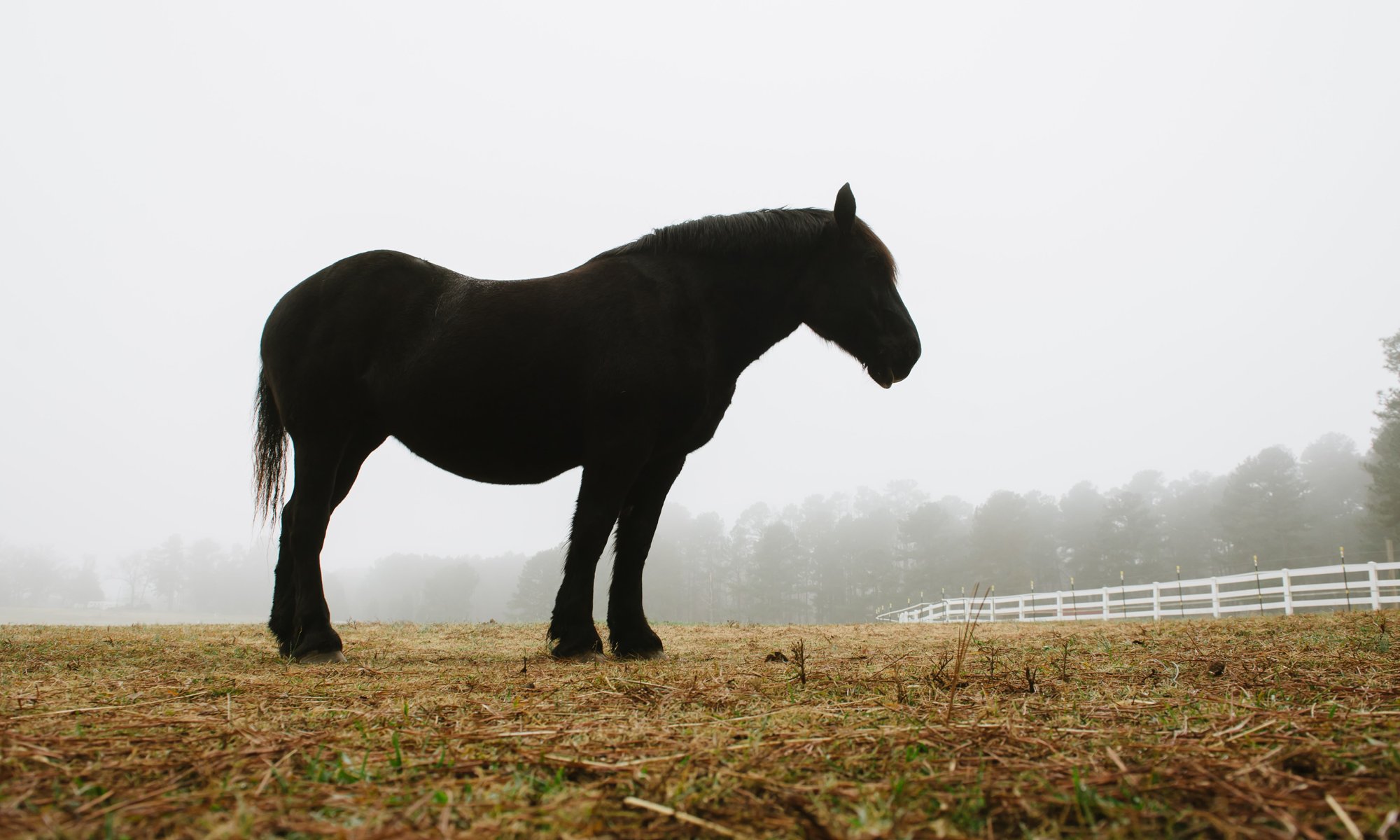 Name: Abby
Breed: Percheron
Color: Black
Sex: Mare
Arrival: Fall 2013
DOB: 1995
"Abby is so big!" These are the words most often exclaimed by those meeting Abby for the first time. At nearly 2,000 lbs she can seem a rather imposing figure. Get to know her however, and you quickly learn that being big on the outside doesn't mean you feel big on the inside. It is quite possible to appear one way and in reality be something altogether different.
We first met Abby on a crisp late September day. Walking down the dimly lit barn aisle, a giant black four-legged figure standing on cross ties emerged through the dusty air. In the low-ceiling barn, she loomed even larger, her massive head nearly reaching the cross beams. Abby's attentive owner moved briskly, making introductions, brushing her gleaming black coat and offering Abby carrots which she gladly accepted. She shared about their many years together riding dressage, showing, and Abby's participation in riding competitions for Special Olympics Youth Athletes. Abby had also brought great comfort and companionship to her own family during difficult years of sorrow and loss. As hard as it was for them to give her up, their season of life required it and they wanted Abby to be able to help others the way she had helped them.
It was clear to us that throughout her life Abby had given a lot to those who needed her. So after a few days of settling in at the Ranch, we brought her into the round pen, took off her halter so she was totally free and asked her, "Ok girl, what do you want?"
With all the choices in the world before her, she did…nothing. Absolutely nothing. For forty-five minutes she stood rooted to the spot looking uncertain while we sat on a mounting block several yards away and waited. It was as if she didn't know what to do. Freedom utterly perplexed her. Finally, after a lot of thinking, she moved slowly over to us and rested her muzzle on one of our volunteers and breathed a big sigh.
It would be easy to assume that because Abby is big, she must therefore also be other things: strong-willed perhaps, or dominant or the leader. But this is not how Abby saw herself. Despite being the largest horse on the Ranch, Abby struggled to find her voice. She deferred to all the other horses in her paddock and seemed to shut down at times, freezing when given a choice, like in the round pen. She reminded us of some of our session kids who withdrew in fear,
struggled to trust people and somehow couldn't find a way to voice the deep pain known only to them in their silent, secret world. How could we reach Abby…how could we reach these kids?
We figured that if Abby was feeling small (on the inside), then we would get small with her. So we moved slowly, we spoke softly, we took our time in everything, and we taught the kids working with her in sessions to do the same. Eventually, Abby began to feel safe and started expressing her opinions. Something amazing was happening – Abby was finding her voice!
In the months that followed we began to see another side of Abby. She moved up the pecking order with the other horses in her herd. In training she was expressive, engaged, almost sassy! She gained confidence in herself and in her human companions, and her unfolding story began to resonate deeply with kids who also felt small or unimportant. In her, they saw a picture of their own hearts, full of a pain they didn't know how to explain but desperately longed to
express. In sessions their small figures, standing only as tall as Abby's muscular shoulder and enveloped in her massive shadow, would reach out a tentative hand to stroke her broad neck. As tenderly as a butterfly landing on a violet, Abby would bend her large head around to meet the outstretched hand with her delicate whiskers and blow a soft puff of warm air from her velvet muzzle. Any fear of her size melted away in that moment. Assumptions vanished as horse and
child recognized in one another a common suffering and with it a beautiful hope in a Good Father restoring the voice of the voiceless.
You turned my wailing into dancing; you removed my sackcloth and clothed me with joy, that my heart may sing your praises and not be silent. Lord my God, I will praise you forever.
Psalm 30:11-12
Support Hope & Healing!
Would you consider donating your time or financial resources towards our ministry helping hurting kids find true hope and real healing?
Support Hope & Healing!
Supporting the care of horses enables us to continue offering free programs to our kids, but caring for them is not cheap. They require a great deal of food, grooming and veterinary care.
Would you consider committing to a $25 monthly sponsorship, supporting Abby financially with a onetime donation, or signing up to serve at the ranch?