She Survived a Barn Fire & Abuse. Meet Grace.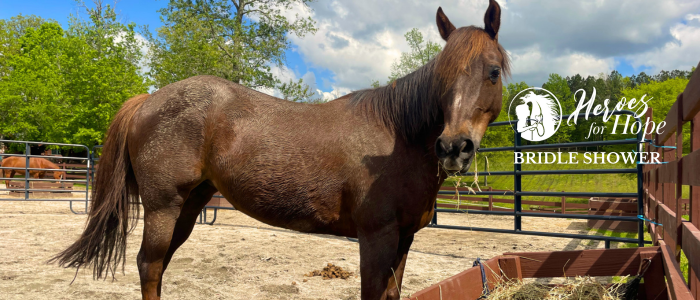 We are just a few weeks into our Bridle Shower campaign, and I've got some great news to share with you.
Meet Grace.  This beautiful Welsh/Quarter Horse Cross is the newest member of the Hope Reins heroic herd.
If you recall, we lost three of our most beloved and longest-serving horses over the course of six months, which devastated everyone who loved them and also put additional stress on the herd.
You see, it's critical to our program that there's always a minimum of 14 horses ready to work with the kids you love.
That's why your generous gifts to the Heroes for Hope Bridle Registry are needed today.
You're ensuring that when we adopt a horse like Grace, she'll recieve the absolute best training, nutrition and health care because she's got a VERY IMPORTANT JOB: helping kids heal from terrible traumas.
And remember every gift you give today is matched dollar for dollar, up to an incredible $100,000!
That means your gift DOUBLES and helps not only Grace, who suffered through a barn fire and physical abuse, but it will also allow us to adopt another horse! (And, we've found a really special one named Pax.)
Please consider pulling out your checkbook or visiting our website at hopereins.org/donate. Writing a check or donating online any amount will be DOUBLED immediately.
We could never, ever help kids who are victims of trauma without your support of these magnificent creatures that help them heal.
Thank you for your incredible generosity.
In Hope,
Kim Tschirret
Founder & CEO
Hope Reins