Biting. Squealing. Kicking. Now Look What's Going on!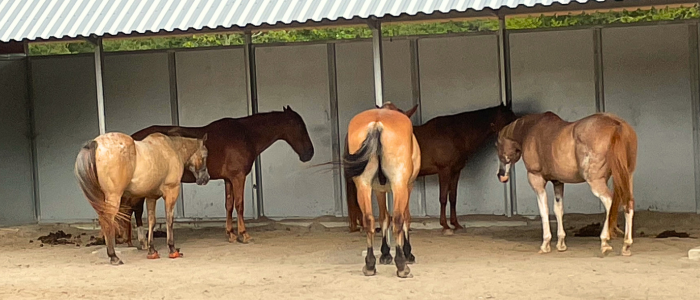 I know the above photo might look boring to you.  Five male horses standing around, unremarkably at ease, and seemingly without a care in the world.
But it's actually an extraordinary photo and let me tell you why.
Four months ago, aggressive posturing, biting, squealing and even some kicking dominated this herd's conversations.
But now, after months of painstaking effort by the Hope Reins equine team,  you're looking at a new group of happy, albeit, sedentary guys doing some male bonding.
If you recall, your generous gifts from the Bridle Shower campaign funded four new horses, two of whom (Sammy and Pax) joined one of our boy herds.
But, acceptance of a new horse (two in this case!) into a herd is never granted easily.  As the hierarchy is disrupted, a new 'pecking order' is soon determined by each horse's individual temperament.
I'm so happy to report that this boy herd is now settled and ready for the kids, who will be returning next week for the second half of the season!
What about the two new girl horses you funded?  Well, sometimes a picture is worth a thousand words!
 Grace and Dolly grooming each other.  BFF!  (Best Friends Forever!)
Needless to say, Grace and Dolly have integrated beautifully into the girls' herd along with Ruka and Joy.
I can't thank our amazing equine team enough for all they've done to prepare the entire 18-member herd!
But remember, it all starts with you.  We couldn't do any of this without your generosity and willingness to make a meaningful difference in a hurting kid's life.
Thank you.
Have a great weekend!
In Hope,
Kim Tschirret
Founder & CEO
Hope Reins