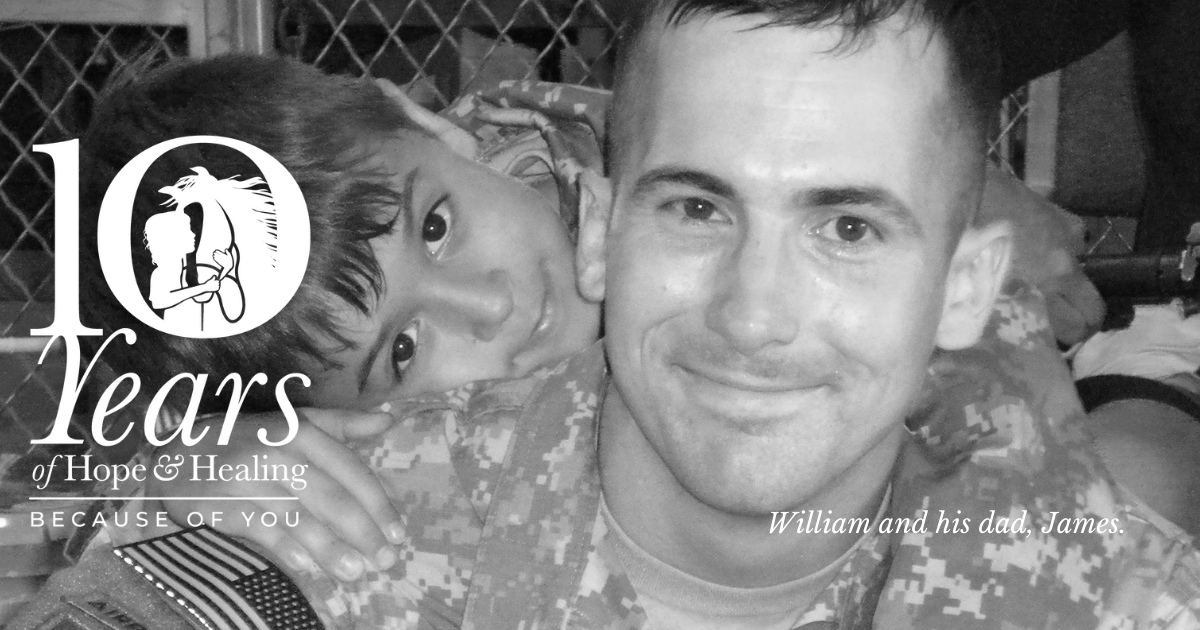 Since our inception, you've helped Hope Reins align with a myriad of partners to help those grieving the death of a military loved one.   
Kids from organizations like The Army's Army, TAPS (Tragedy Assistance Program for Survivors), and Children of the Fallen have found comfort and healing at Hope Reins because of your generosity.
I want to share with you a story about William and how one inexplicable moment changed the trajectory of the little boy's pain.
2013:  Rachel Nolen opened her front door 4 years ago on November 22, 2009, to three soldiers dressed in Class A's.  They came to deliver a message that changed her life forever. James Nolen, her beloved husband and father to 7-year-old William and unborn baby girl, Jamie, had been killed in Afghanistan.
The impact of the tragedy hit William hard – and over the next several years, Rachel watched helplessly as her once outgoing and fearless son, withdrew and become shy and ill at ease. Middle school proved tough for William, and although she knew he wanted to be strong for his Mom and baby sister, he pulled more inward. He missed the strength and reassurance of his father. 
 When The Army's Army invited the family out to Hope Reins for an afternoon event honoring the children of fallen heroes, William found himself cast among dozens of furry 'angels in horsehair' including Shiloh, a beautiful dapple grey Pony. 
Rachel watched her sweet son slowly embrace the relaxed setting of the ranch, as he groomed Shiloh, played games with the other kids and talked with staff members.  "It was an amazing moment. The light returned to his eyes," said Rachel.
Since that day, William hasn't stopped talking about his return to Hope Reins to see Shiloh, and attend regular sessions next spring.  "I cannot thank Hope Reins enough, and I can't wait to see what the future holds for him!"
Romans 15:13
"May the God of hope fill you with all joy and peace in believing, so that by the power of the Holy Spirit you may abound in hope."