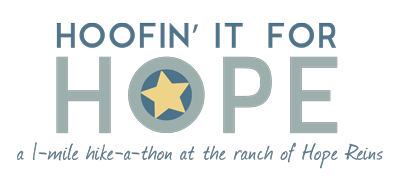 Giddy Up & Join Us: 3 WAYS
REGISTER as a TRAIL BOSS (Team Leader) by September 20, 2018. Recruit a POSSE of 5 or more friends to follow your lead. Raise funds with your team members to raise a ton of loot for Hope Reins.
REGISTER with a POSSE (Team) by September 20, 2018. Raise (or donate) a minimum of $100 bucks for Hope Reins!
SPONSOR a Team Member by donating before September 22, 2018.
PRIZES will be awarded to top fundraisers! Everyone who raises over $250 will earn an awesome Hoofin' it for Hope t-shirt!
DATE: Saturday, September 22, 2018

TIME: 8:30 am – High NOON

WHERE: Hope Reins 8420 Wake Forest Highway, Raleigh, NC 27613

GEAR: Comfy Boots or Runnin' Shoes

FUEL: Complimentary Breakfast Bar
Hoofin' It for Hope is an interactive 1-mile Hike-A-THON held on the grounds of Hope Reins' beautiful 33-acre ranch to raise funds for the hurting kids we serve free of charge with an amazing herd of rescued horses.
You're invited to team up with friends, family, small groups, or co-workers and experience a fun-filled, exhilarating morning hiking. As a participant you will champion our cause of HOPE for young children, teens and families who struggle with life crisis like abuse, neglect, suicide, life-threatening illness or homelessness.
Post-hike, join us for a BIG Ol' Shindig with food, music, games and a competition unlike any other: The Poop-Scoop!
Our Mission: We pair hurting kids with rescued horses to find hope and healing. All services are free of charge and made possible by you and other generous donors.
Support Hope & Healing!
Would you consider becoming a monthly horse sponsor, making a one-time donation, or joining our mailing list and donating your time toward our ministry helping hurting kids find true hope and real healing?